Abstract
 BUILD YOUR PROFILE FOR POSTERITY
1. What is your full name (first, middle, last),
Jayant Murthy
your most published name,
Jayant Murthy
and your nickname?
2. When were you born? (day, month, year)
01/09/1961
3. Where were you born? (city/town, state/province, nation)
Shillong, Meghalaya, India
4. What is your current nationality?
India
5. What secondary, undergraduate, and graduate schools did you attend? Please list each school by name, state/province, country, and degree(s).
International School of Lusaka, Lusaka Zambia: O Levels
The Johns Hopkins University, Baltimore, MD B.A (Physics)
The Johns Hopkins University, Baltimore, MD PhD (Physics & Astronomy)
6. What is your current institutional affiliation?
The Indian Institute of Astrophysics, Bangalore , India
7. What are your primary interests relating to Astronomy (research, education, public communication, amateur engagement, other)? Please rank from 1 (greatest focus) to 4 (least focus). Ties are OK. Further details are OK too.
1. Research
2. Teaching
2. Public Communication
4. Amateur engagement
8. Some other identifiers which you may (or may not) choose to communicate publicly might include your gender, sexual orientation, marital status, race, ethnicity and religious faith.
Gender: Male
Marital Status: Married
Race: Indian
Ethnicity: Indian
Religious Faith: Atheist
The remaining questions are intended to help you build an informative and engaging personal profile in Astronomy and related sciences.
9. What was your childhood like? (please feel free to elaborate)
I moved a lot as a child as I was born in India and then moved to Canada at the age of 6. I had attended 6 different schools before the age of 10. I moved to Zambia at the age of 11 where I finished my secondary school. I remember Zambia well and it's where I started first playing basketball.
10. When did you first develop an interest in Astronomy and related sciences?
At the age of 8 when Apollo 11 went to the Moon. It's the first science story that I remember and we watched it on a small black and white TV set.
11. What persons helped to support your interests and develop your skills relating to Astronomy? Here is your chance to publicly thank those who supported you during…
Secondary School (if applicable)
I enjoyed my school days and all my teachers recognized that I was a smart kid and encouraged my activities.
Undergraduate School (if applicable)
Bill Fastie taught an Optics course where he shared some of his own experiences. That was quite enjoyable. The grad students, by and large, were also quite helpful, especially in our later years.
Graduate School (if applicable)
12. What was your first real "job" relating to Astronomy? (if applicable)
I was a NSF/NRC fellow at Goddard.
13. What activities, experiences, or achievements relating to Astronomy have been most rewarding to you?
I can't really say that any of the activities have been very memorable. It has always been a job which I enjoy but not with any particular ups or downs. I do enjoy data analysis and I also enjoy teaching.
14. What are your current interests and activities relating to Astronomy?
I work on the interstellar medium and am also getting involved in spreading data analysis to the university system in developing countries. There is a lot of astronomical data available and it is well suited for projects for students and faculty who may not have access to better facilities.
15. Are there any regrets that you would care to share?
I should have and still should make a greater effort to become part of the astronomical community. I tend to focus more on family and this has affected my career.
16. What lessons-learned or other insights would you like to share with aspiring astronomers, etc?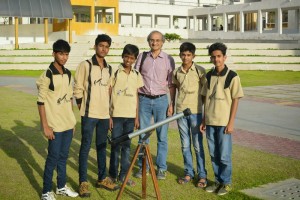 I have always done more or less what I wanted to do without bothering much about promotions or other career enhancing moves. It has worked out for me in that I still do enjoy what I do but, at the same time, has limited my effectiveness in improving the system. I have, however, become a part of the local educational circuit as I give at least 2 talks every month in a number of different settings in addition to my teaching.
17. What non-astronomical activities are you engaged in that you would like to share?
I don't do much outside of astronomy and family other than reading and watching movies.
18. What other comments would you like to add?